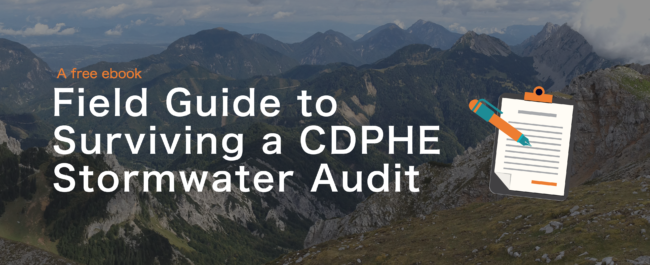 Download our Field Guide for State Inspections
In March of 2017 we made available a quick guide to the best practices for surviving a state stormwater inspection of your construction site. Based on the many inspection visits our clients experienced in the first quarter, we knew we had to upgrade and update the guide. Quickly!
Yes, State of Colorado has increased their enforcement staff and set a goal to visit approximately 10% of permitted  sites (stormwater discharge permits).  And we are beginning to wonder if that was an understatement. Last week alone we had three client sites receive state inspections.
Now the good news: Sites that maintain a consistent, proactive compliance program tend to look very good when the State visits. This means the visits are less stressful, there is less spending needed to come into full compliance, and the response we help our clients write back to the state is simpler
Still, we know that getting notification of a pending stormwater inspection can induce some anxiety so we are proud to share our new, improved, Field Guide to Surviving a CDPHE Stormwater Audit? It includes actionable tips for preparing for a state inspection, what to expect during an inspection, and how to respond to the State's Final Inspection Report.
All we ask is that you share your email so we can stay in touch with you with future guides, blog posts, and offers. We promise not to overwhelm your inbox, but if you are in a position to benefit from the Field Guide, we'd love to stay connected so we can learn from each other.